Bringing Classic Boats Back To Life.


How we do what we do.


There is a fine line between something that is savable and something that is not. We want to do it again and again but it's like triage, you have to let some go and save the ones you can. If a boat can pass the three rules and be cool and unique enough you may see it up for sale here in the future.

We are sure some of the first thoughts about us making classic boats affordable are things that should not be said in public but here is the honest truth.

If you are looking for a boat to take to the next New York Boat Show your probably not going to win first place with one of our boats.

With that said, You want to pull up to the beach or local hangout and have your friends drool and then turn green with envy when you tell what you paid for it, you are at the right place.

_________________________________________________________________________________

The three rules to get started with;


We are not looking for the average everyday boat.
If you have seen a million of them then itís not really what we are looking for. It has to be something unique just to get things rolling.

Next rule on our list is it has to be worth saving.
As sad as it is sometimes some boats are well past repair and need to be made planters out of. But luck has it that for the most part the older they are the better they were built and thatís what in most cases make's it possible and economical to save.

Economical is the last of the three rules.
It has to be economical for us and the future potential buyer. A lot of folks can buy a boat, dump a ton of money into and restore it but our goal is to do it right and still make it affordable for someone to buy.

_________________________________________________________________________________

Our boats are a labor of love to say the least.

They have to be and to be honest we would do it for free if we could afford to. People have passions. Ours happens to be saving classic boats.

The normal process in restoring a boat starts with finding the right candidate and getting it home. Sometimes that can be a challenge. One ride back to the shop the trailer receiver broke off the tongue in the middle of a busy intersection. Lucky for safety chains. That was no fun at all.

Once it's here we then do a total assessment of what's needed to restore the boat to original condition or at least to something of the period. Meaning it may not have an original numbers matching drive package in it but you would've been able to get something comparable at the time or even an upgrade over the years but the bottom line is if it doesn't look right it's not getting done.

We find that in most cases getting rid of everything that was ever added to the boat over the years by past owners is the best thing to do. Start over with a fresh canvas. The rest is bagged and labeled for future disassembly, cleaning and / or replacement. Motors, drives, shields, if it's attached to fiberglass it comes off. Then the hull is power washed for the first of many times to start to see what's the real deal is with the boat.

Then again we access everything and create a master list of anything needed.

In full discloser we are not going to replace everything. That puts most boats out of the price range of anyone. If it's an off the shelf part then more then likely it will be replaced with the same as original or as close as possible. Are we going to pay $250.00 for a one of a kind bow cleat because the old one shows some ware, no. We start doing that and again no one can afford these boats and we are just making expensive yard ornaments because we cant keep them all. There is always the future for that kind of stuff depending on how the owner wants to take it.

From there two branches of the restore begin. The first is the parts search. The Internet is wonderful tool but things don't always come available when you need them to so the search always starts as early as possible. The second is "body work". We don't like bottom paint and it must go on any boat we restore along with anything thru hull that's not original also has to go. The transom's are always good for some buried screws and poorly patched holes so we pay extra attention to it. Basically we strip it down to its birthday suite.

Anything that has been drilled into or through the fiberglass any place on the hull, even if it has been repaired before is repaired from the front and backside (where possible) with new fiberglass built up to the original thickness of the area around it. Then Fiberglass Bondo is used on the first layer and then Finishing Bondo is used for the thin top coat. Most is then sanded off to leave as little as possible. We don't make Bondo boats.

Any rot is addressed during this time also. One of the first things we look for in a boat is the lack of rot but sometimes you find it and we go about fixing it one of two ways. It's either new wood or a 16lb Density Closed Cell Urethane Foam. It's essentially as hard as a rock and you would need a hammer in order to make any dents in this product when cured. Just to keep a running test we have samples from up to 7 years ago and they are all still as hard as the day it was poured. Even if we do replace a transom we still use the foam in the bottom keel area, around the drain plug to prevent any water entering the transom from these notorious leaking holes.
When we feel like we have spent way to much time fixing bodywork we then spend more time on it before primer.

We then fit all the returning hardware and do any alterations needed.

New paint. In most cases the original gelcoat has long been gone so paint it is. We use quality, proven single stage urethane paints in solid colors. We use solid colors for the most part because we are going more for class then flash. Most of the boats we like to restore would almost look silly with a high shine metal flake paint job on it.
We then put it back together, like said before we don't like to clutter up things that don't belong so there tends to be a lot less installing of the fun stuff. And no matter what Resurrection Marine only uses stainless steel fasteners.

In most case all the wiring is removed and replaced. Harnesses are made reliable, simple and easy to understand and capable of handling future additions.

A new dash.
Backer boards are refurbished or replaced. New gages, new switches laid out proper, new steering systems in most cases. A few things may be refurbished into the build like the steering bezel as long as they work and look proper.
Interior.
If there was carpet in it, it was already taken out and will be replaced with new. Seats, dash pads and bolster upholstery is usually replaced with new wood, padding and marine grade vinyl unless the original is in exceptionally good shape.
Drive package.
The motor is at least refreshed and if not refreshed it's rebuilt or even completely replaced if needed. If we do build a motor for the boat we tend to shoot for good reliable performance. Something respectful but not prone to break.
Outdrives are tuned up. Fluids changed and U-joints serviced. Boots and seals are also serviced before reassembly.
We are kind of partial to Volvos but only if we can add full "trim" to the outdrive. None of those worm gear tilt motors in our boats.
And it goes on.
Every boat is different and has different needs. Our goal is to address them all and give it a fresh start.
And it doesn't end there.
If we find something that will improve the restore while the boat is still here we do it. You might want to say that we treat them like we are keeping them forever.
_________________________________________________________________________________
This is just an example.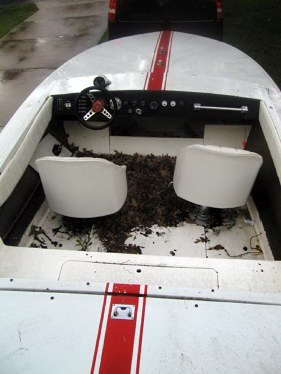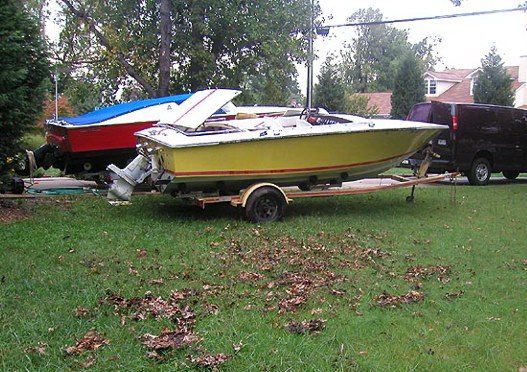 We found the 1973, 19' Monza Marine sitting in a neighborhood side yard sunk up to it's trailer axles in mud. The tongue jack was sunk in the dirt so deep it took a 2 ton jack to lift it out. Even had a small tree start to grow between the inside deck and inner liner.
After a little love it turned out as a treasured object instead of land fill material.
The new owner loves it.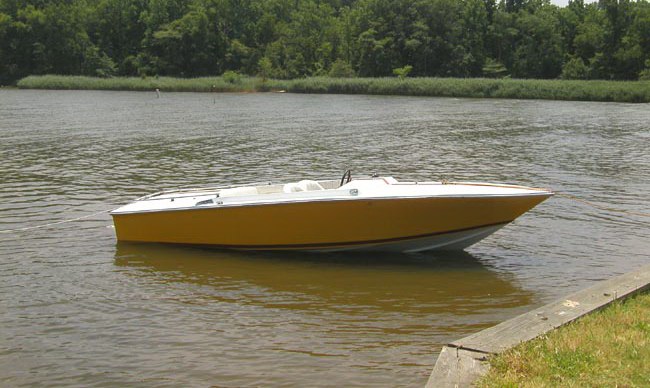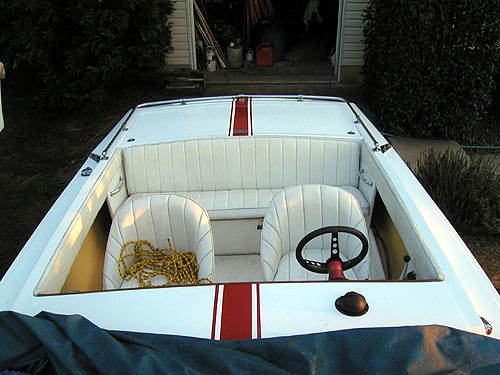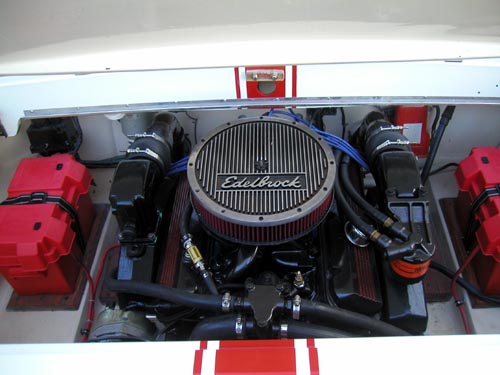 Now it has the chance to live on for another 40 years.
Not bad for what was called an "eyesore" by the mother of the past owner just a short time ago.
_________________________________________________________________________________



It's Not About Being Noticed, It's About Being Remembered.
Resurrection Marine .com
The SuperNova19 Network